Top 10 On-Screen Romances
Celebrating Valentine's Day, we are looking at the ten best romantic couples, ever to grace the big screen.  Our list was hard, but we finally managed to come up with a culmination of the most impactful characters that have swept us off of our feet.  Let the countdown begin…
10.  Tim and Mary (About Time)  Director Richard Curtis stepped up his game after "Love Actually," and gave modern audiences a fun, romantic movie dealing with life, love, and loss all surrounded by Time Travel.  Tim and Mary make the perfect on-screen couple and easily topped our top ten list.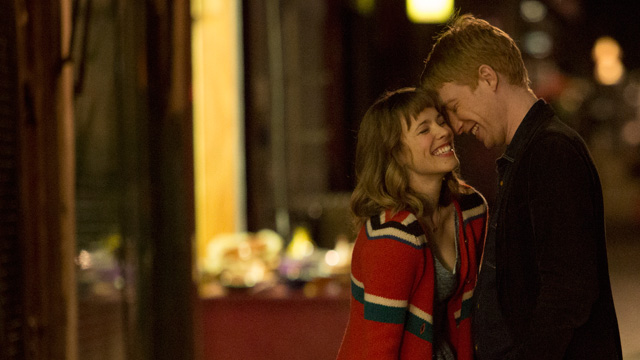 9.  Tony and Maria (West Side Story)  This musical version of Romeo and Juliet finds our star-crossed lovers on the streets of Manhattan.  Two rival gangs fight over territory while Tony and Maria fall in love, not caring about the turf.  Tony and Maria make the best on-screen couple, in Stephen Sondheim's classic.
8.  Noah and Allie (The Notebook)  Say what you will about Nicholas Sparks, "The Notebook" is his best film and since the film's release, people have been perfectly drawn to this tale of loss and romance.  The chemistry between Rachel McAdams and Ryan Gosling was never better, than here.
7.  Belle and Beast (Beauty and the Beast)  Nothing says tale as old as time like Disney's monster hit of the 90's, "Beauty and the Beast."  The breathtaking visuals, the songs and wonderful romance between Belle and the Beast never gets old and it's become the signature Disney film of the last two decades.
6.  Han Solo and Princess Leia (Star Wars)  Han Solo and Princess Leia never felt like the perfect couple, but their chemistry was sweet and sour which feels perfect for a dramatic cinematic experience.  The classic "I love you, I know" line, has become so famous in film history and and we always yearn to see Han and the Princess, in all their trials and tribulations.
5.  Sam and Molly (Ghost)  "Ghost" is a hilarious, dramatic and thrilling tale of a life lost, and even in death, do these characters still have that hunger for each other.  The most famous scene in the film is the lovemaking scene with Sam and Molly as they make pottery from a clay wheel.  Dito, to all those lovers out there.
4.  Westley and Buttercup (The Princess Bride)  "As you wish!"  "The Princess Bride" is the ultimate fantasy adventure tale of love.  It's a heartwarming, swashbuckling story of a man who is sent to reclaim his long lost love.  "The Princess Bride" is standard canon for children's films, but as adults we still love the budding romance between Westley and Buttercup.
3.  Harry and Sally (When Harry Met Sally)  "When Harry Met Sally" is arguably the most romantic comedy of all-time.  The ups and downs of love concerning these two characters is hilarious to watch and the most memorable moments are the complete opposite natures between these two very different people.  Meg Ryan and Billy Crystal have amazing chemistry in this classic.
2.  Rick and Ilsa (Casablanca)  Nothing ever ceases, "As Time Goes By."  "Casablanca" is not only a great WWII love story, but it is arguably one of the greatest films ever made.  The powerful acting between Humphrey Bogart and Ingrid Bergman is explosive and every romantic film ever made has tried to emulate the romance that these two characters have.  "When Harry Met Sally" paid homage to this film multiple times because the love between Rick and Ilsa is complex and beautiful for on-screen romances.  It's simply one of the best.  "Here's looking at you kid."
1.  Jack and Rose (Titanic)  Romance has never been done before as it was from the scale in James Cameron's masterpiece "Titanic."  It is the second highest grossing film of all-time and even though the star-crossed lovers story is cliched and overdone at this point, Leonardo DiCaprio and Kate Winslet have the acting chops, the chemistry and the most powerful love story ever seen on film.  The Haters out there are gonna hate, but this movie is so well done, and sure parts are a little cheesy, but so what.  The movie is breathtaking to watch and we actually yearn for these two characters, even though they end in tragedy.  "Titanic" is a powerful film about survival and recounting a love once lost, a lifetime ago.
Honorable Mentions:  
Pretty Woman
Moulin Rouge
Jerry Maguire
The Fault in Our Stars 
You've Got Mail
Top Gun
Silver Linings Playbook
An Affair To Remember
Gone With the Wind
So there you have it.  Our list of the top ten greatest on-screen romances.  What did you think of our list?  How would your list look like?  Let us know in the comments section below.  For more romance, movie moments and sloppy kisses, follow us on twitter @filmschooligans or on Youtube at Film School Hooligans.